Apple (NASDAQ:AAPL) remains certainly one of my personal favorite large-cap picks and that is partly because of greater average unit prices of iPhone versus prior-year. While analysts have elevated concerns on prices trends from prior year, I have faith that individuals concerns really are a bit overblown given iPhone SE, 5S and 6/6 Plus unit contribution was better elevated on the rear of an inadequate iPhone 6S offering.
Consumer favorability of iPhone has ticked greater previously year due partly due to Samsung's battery issues, but more because of the set of features that complimented the iPhone 7/Plus versus prior year's flagship offering. In addition, In my opinion adoption from the high-finish variants to possess ticked materially greater over prior-year given usage data and installed base estimates. Using the ultra-premium iPhone 7Plus or $750 ASP+ category adding 3x greater than the sub $500 (iPhone SE category) in Q2'17. In addition, my estimates imply the iPhone 7 Plus is on the right track to create 81.57 million unit shipments (FY'17) versus prior-year (FY'16) 6 Plus shipments of 46.86 million.
Analysts ringing the alarms on historic iPhone data
Barclays analyst Mark Moskowitz ongoing to reiterate his careful tone on Apple because he believes near-term ASPs might be pressured given divergences in trends between premium device sales and sub $500 iPhone sales. Also, he reiterates the iPhone 8 cycle might have an excessive amount of hype embedded into shares and reported concerns over iPhone 8 delivering on expectations.
Source: Barclays
Moskowitz from Barclays mentions share of devices offered under $500 have elevated markedly from prior year. However, most importantly iPhone 7 Plus shipments were slightly subdued given supply imbalance appearing out of Q1'17.
It isn't yet obvious whether Apple has arrived at supply/demand balance between iPhone 7 and seven Plus, however the installed base of Plus units is greater like a percentage versus prior year. So, I am expecting markedly better ASPs from prior-year within the remaining fiscal quarters. Individuals are upgrading the stack, but trends in moving lower the tiers were partly driven by iPhone SE.
As a result, prior-year ASPs were partly subdued because of the introduction of iPhone SE, addressing 22.six million unit sell-in since beginning. Based on the Fiksu Usage Monitor, roughly 3.6% of the present installed base consists of iPhone SE. When multiplying the most recent Goldman Sachs installed base figures of 630 million by 3.6% we get to 22.six million cumulative SE unit shipments, which may negatively affect device mix between premium and non-premium tiers.
Source: Alex Cho, Apple Financial Statements, Fiksu Data Monitor, Goldman Sachs and BofAML
Apple's iPhone SE did cause some momentary weakness in Q1'17 ASPs ($694.57) versus $690.50 (prior year), which possibly pulled the typical lower. However I don't anticipate the reduced-finish segment to meaningfully affect ASPs even more throughout the present fiscal year as SE shipments are trending at approximately 2.4 million units monthly, or appx. 7.14 million units for Q2'17. That comes even close to 57.six million iPhone units for Q2'17 (estimate), which means the below $500 ASP segment will compose appx. 12.39% of total unit sales. Obviously, my estimate might be off, however i don't anticipate the units to materially drag ASPs lower on the y/y comparative basis given greater unit mix-shift to 7 Plus variants versus prior-year.
The recent data on iPhone 6S and 6S Plus suggests the usage mix at 16.5% and 6.6% or 103.95 million, and 41.58 million unit sell-in since launch (September 2015). Recent trends suggest Q2'17 are experiencing a significant ASP bump, as Apple offered-in 61.74 million iPhone 7 and 39.06 million iPhone 7 Plus units since launch (according to newest figures).
Bear in mind Apple almost offered exactly the same quantity of 7 Plus units within the first 100 days in comparison to the cumulative 465 times of iPhone 6S Plus. My estimate on 7 Plus shipments for Q2'17 implies unit sell-by appx. 22.58 million unit, that is significant in comparison with my earlier iPhone SE shipments of seven.14 million for the following quarter. The super-premium category is trending at appx. 3x the amount of shipments for ASPs above $769 versus ASPs below $450.
This is a substantial shift upwards in prices, which implies average unit prices will not be an instantaneous headwind to revenue/gross margins soon. In addition, I estimate one step-in average ASPs in comparison with prior year, as I have forecasted $673.92 ASP for Q2'17, which comes even close to Q2'16 figures of $642.83 (my premium research subscribers have early use of my full ASP model).
Source: BMO Capital Markets
I am anticipating Chinese shipments to maneuver above periodic trends within the next quarter as industry logistics checks exiting the last quarter recommended Apple's inventory in a variety of Chinese retail locations was markedly lower in comparison with prior year. I anticipate that added sell-by iPhone 7 Plus plus high amounts of demand in Asia will materially alter landmass Chinese comps once salary is reported. This is driven by mix-shift to iPhone 7 Plus, that was supply restricted in China within the December quarter.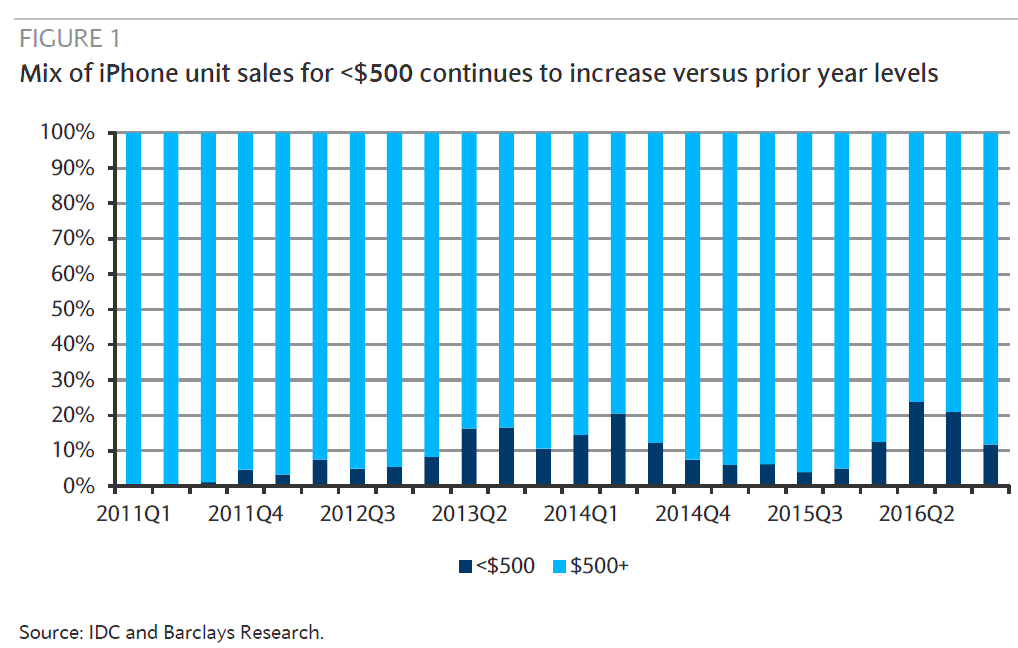 Hence, I am positive on iPhone shipment/prices trends though In my opinion historic data does have a tendency to skew just a little unfavorably because of the contribution of SE, which led to a momentary weakness in unit mix, on the top of under favorable adoption of iPhone 6S versus 6, as iPhone 6/6 Plus symbolized 23% of prior-year unit sales, whereas SE symbolized 5% from the total mix and iPhone 5S was 4.6% of total unit mix, which amounted to roughly 33% of iPhone sales falling underneath the $650 cost tier, but mainly because of gentleness within the flagship 6S/6S Plus series.
I am expecting prices to enhance markedly, but mainly due to less prior-year unit contribution, i.e. 6S/6S Plus representing a smaller amount of this mixture and decelerating unit contribution from iPhone SE within the following quarters.
Final ideas
Near-term prices trends appear overall supportive towards the Apple investor base. I anticipate that trends in prices will improve even more upon the development of iPhone 8, although the assessment is sort of subjective given little understanding of Apple's next major refresh and insufficient reliable consumer survey data.
Given variations in unit mix it's fair to visualize that Apple's approaching earnings reports is going to be fueled by prices and unit shipments. We'll gain further clearness once we progress with the year, but baked into my estimates is one thing fairly conservative.
I still reiterate my high conviction buy recommendation on Apple.
About Cho's Technology Research
Cho's Technology Scientific studies are SA's premier technology research package that provides investors and traders yet another edge when investing into tech companies. It is a trade publication, research service as well as an idea generator. It offers short-term trade ideas that yield 5%+, lengthy-term small cap investment ideas that yield 25% This services comes in a low annual subscription price of $20/month. The marketing cost period will finish soon! Subscribers obtain a free two-week trial upon checkout and may cancel at any time over time. To learn more click the link.
Resourse: https://seekingalpha.com/article/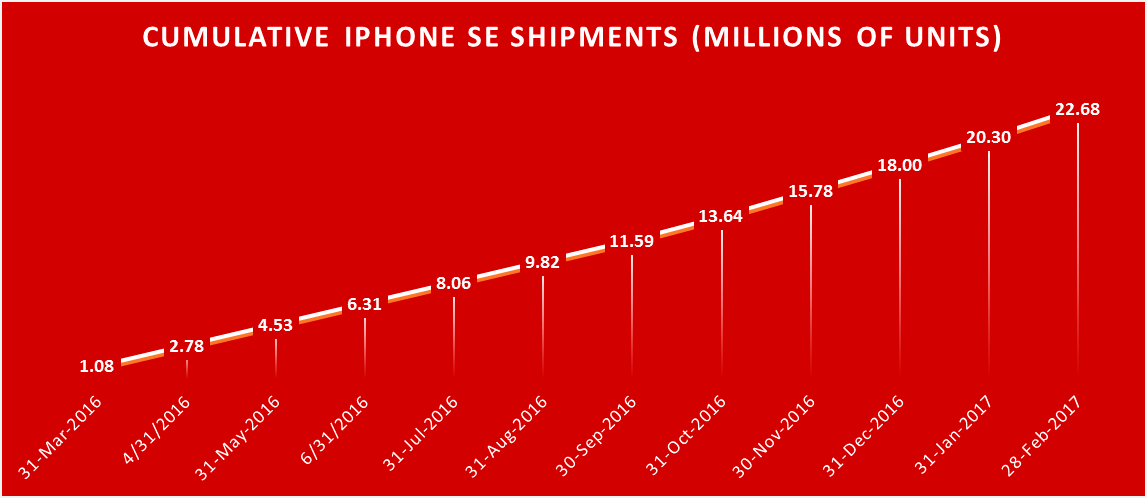 STOCK ANALYSIS – APPLE (AAPL)